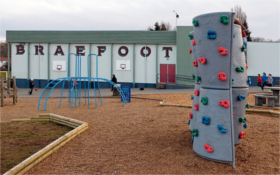 Braefoot Elementary School is located adjacent to the semi-rural Blenkinsop Valley within the traditional territories of the Esquimalt and Songhees Nations, on whose traditional territories, we live, we learn, and we do our work. We are committed to providing a culturally responsive learning environment that supports the individual needs and learning styles of the child, honours positive relationships and diversity, and enables students to realize their potential. We proudly offer an exceptional, inclusive K-5 model that encompasses a balanced emphasis on academics, fine arts, and athletics.
The school is supported by a dedicated Parent Advisory Council. There are a large number of enthusiastic parent volunteers who support the classroom teacher with activities, in and out of the classroom. The Braefoot PAC provides many opportunities that promote a close-knit school community.
Braefoot School has cultivated a close working relationship with the Faculty of Education at the University of Victoria and Camosun College. We routinely supervise both short and long-term pre-service teachers and educational assistants. Our school welcomes the energy and opportunities for learning that these pre-service professionals bring to several of our classes each year.
Braefoot Elementary School provides a balanced academic and arts program that is a positive, enthusiastic learning environment. The classroom doors are always open, and parents are encouraged to take part in their children's learning.